---
29.05.2020 – PO-14 Packaging for TSI Series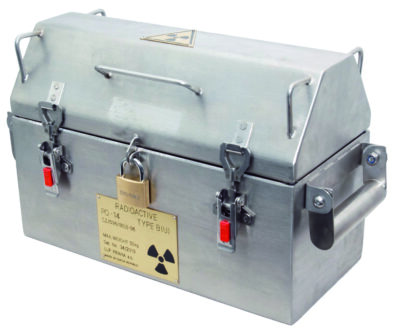 Long time available, but largely unknown!

The Type B (U) approval for the TSI series has expired. In order to be able to continue to transport these devices safely and legally, IT-Service has provided the Type B (U) packaging "PO-14". The combination of the PO-14 packaging with the devices of the TSI device series represents the permission for transport.
Make sure to use the new approval.
Transport of the TSI series, by using the PO-14 packaging, takes place under the
approval CZ / 096 / B (U) -96 and is valid until September 30, 2029.
More information can be found here: PO-14 Manual and Maintenance

---
22.08.2018 – Stay compatible!

EXERTUS NOVUM and EXERTUS DUAL 120 are compatible

You own and use TI/TI-F/TI-FF accessories, for example remote controls, end-terminals, collimators or guide tubes and would like to carry on using these with other projectors? This is possible with our partner products.
EXERTUS NOVUM und EXERTUS DUAL 120
Our partner products EXERTUS NOVUM and EXERTUS DUAL 120 are hybrid projectors which can be loaded as well with Ir-192 as with Se-75. New design and improvement of the source guide channel set new standards. Safety and flexibility are combined with compact design and low weight.
With 17.6kg the EXERTUS NOVUM projector is more lightweight than most other competitor products. The new design and the improved source guide channel, in addition to an increased safety effect, have positive effects on operation and maintenance. The wear or associated downtimes can thus be reduced to a minimum.
The EXERTUS NOVUM projector is compliant to ISO 3999: 2004.
The maximum load for it is 60-75 Ci / 2.22-2.77 TBq Ir-192 or 200 Ci / 7.4 TBq Se-75.
The projector is expected to be available from November 2018.

Due to its shielding the EXERTUS DUAL 120 is more heavy, but with 22kg  also lighter than projectors with similar specifications.
EXERTUS DUAL 120 is compliant to ISO 3999: 2004.
Maximum load for it is 120 Ci / 4.44 TBq Ir-192 or 200 Ci / 7.4 TBq Se-75.
Could we spark your interest? Should you require any further information concerning projectors or accessories, please do not hesiate to contact us.
You can also use your TI / TI-F / TI-FF unit in conjunction with the PO-12 transport box. Information about it can be found in this PDF download: Transportbehälter PO-12 Information

Your IT-Service Team Leipzig and Haan

---
---
14.12.2017 – Permission for TI series

Dear customers and partners,
As you may have noticed, this year there were difficulties with the approval extensions of the TI and TK series. Due to the closure of the NTPE company, the extensions were granted only with conditions imposed by the BfE.
We, as your contact in Germany, see us forced to take action due to further delays. The situation for next year's registration renewal is not clear at the moment. We, as IT Service, are interested in taking over the licenses and are in contact with NTPE, but we are not the only ones interested. The process is currently being delayed, so we can not estimate when it will be finished. If we get the contract, we will immediately take care of the extension of the approvals concerned. In case that someone else gets the contract or the process continues until next year, we can not guarantee an extension of the approvals. We already dealt with this problem some time ago and developed an alternative solution. Since the "Type B approval" is only needed for transport and not for working with the equipment, we have developed a Type B packaging for the TI series, in which the equipment may be transported again. The type B packaging is intended only for transport and can remain in the car.
Prior to use it is important to have your transport and handling permits checked and adjusted in case that necessary. The new Type B packaging has a different registration number and needs to be included in your permits. Talk to the representatives of your approval authority in charge in order to implement this on a short-term basis.
It is important for us to know if you would like to purchase such type B packaging to be sure that you will be able to transport the TI / TIF / TIFF devices after the 30.06.2018. The delivery times of these packagings are high and we want to make sure that we have enough of these packagings available. In case that you are interested we are asking you to place your orders with us the latest by 31st December 2017. The price for the type B packaging will be 2300,- Euro. The new type B packaging approval is valid until 31st January 2025. Unfortunately we have no solution for the TK devices yet. SE devices are not affected by this problem.
Best regards,
Your IT-Service Team Leipzig and Haan
---
---
27.06.2016 – IT-Service Leipzig GmbH – Sponsor and exhibitor at 19th World Conference on Non-Destructive Testing 2016 (WCDNT) in Munich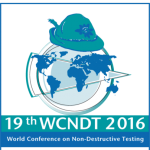 IT-Service Leipzig GmbH – Sponsor and exhibitor at 19th WCDNT 2016 in Munich
From 13th to 17th June, the International Congress Center opened its doors in Munich for the 19th WCNDT.
This major event was successfully organized this year by the German Society for Non-Destructive Testing e. V. (DGZfP).
"The World Conference on Non-Destructive Testing is the most important event in our global community. The DGZfP, which organized the 6th WCNDT in Hanover in 1970 and the European Conference (ECNDT) 2006 in Berlin, is pleased about the honor of hosting the 19th WCNDT 2016 ", says Matthias Purschke, board member of the DGZfP and president of the WCNDT.
As one of 273 exhibiting companies around the world we, IT-Service Leipzig GmbH, were also present here and we were pleased about the numerous visits to our booth S26 in hall 14. The presentation of the products of our partner companies, for which we are distributors, as well as the presentation of our own products and services were also the focus of our booth. In addition to the professional exchange, the consolidation of existing business relationships and making of new contacts, exciting new prospects were opened.
The WCNDT in Munich recorded more than 3900 visitors, of which 2500 participants were also able to visit the numerous presentations of the NDT spectrum.
Thorsten Schmidbauer, Managing Director of IT Service Leipzig GmbH, gave his auditorium an insight into the topic of safety in his lecture "Improved Safety & Security of Gamma-Radiography in Germany".
The presentation slides you may find here:
---
---
27.06.2014 – Product Novelty – Remote Control Type III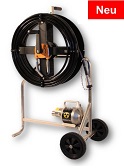 7 good reasons for a new remote control

Less maintenance expenses due to a new rewinding mechanism
Easier source deployment due to minor friction provides for a longer life-expectancy of cable and cable conduit
Ergonomic design saves time and backache
Better transportability of the equipment on site (trolley principle)
With a support optionally available, gamma camera and remote control can be transported together
Only one crank-handle for moving the source in and out and for recoiling of the cable conduit
Trolley made from high-grade steel, low maintenance, control element easy to remove
Fernbedienung Typ III - Datenblatt PDF, DE (only German language available)
---
---
27.06.2014 – Product Novelty – Salvage Receptacle – Preventive care for the case of incidence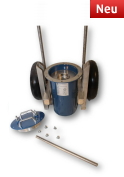 Now its available! The emergency, storage and transport container of IT-Service Leipzig GmbH. After a long period of development and production we are finally enabled to contribute to your safety as well.  This type A approved container might be of interest for you. For further information, please refer to the product flyer below (at the moment only available in German language – Should you require any further information, please do not hesitate to contact us.)